I'm back again and posting on another Friday,
for another fun Link Up with some fellow bloggers!
Today I'm linking up with two farm gals who have great blogs,
cute kids and where I've found some fun party and DIY inspiration!
Keep on readin' to find out some of my favorites for the Christmas season!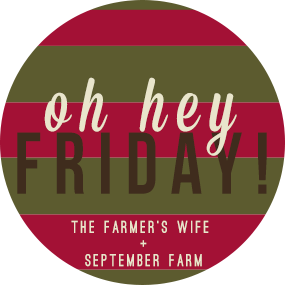 Robyn's Christmas Favorites!!!
1. Christmas Music
I listen in the car and at home.
And I get excited when I hear it in public places.
There's just something about Christmas music that I love!!
Coast 103.5
in LA has been playing it since early November
Can't.Get.Enough.


2. Christmas Decor
I spent hours decorating the Saturday after Thanksgiving.
I'm almost done, but I still have to get my tree!
Hoping to get that, and everything else done this weekend!
If you're interested, check out my
2012
and
2013
Decor posts.
3. Christmas Cards
I make pretty much all of my cards, but especially my Christmas ones!
I started it years ago and just can't go back to store bought cards.
They just aren't the same to me.
Some of the cards I made in
2012
and
2013
!
4. Christmas Fun in Los Angeles
What to do in LA in the "winter"?
Not freeze that's for sure!!
Try a few of these fun things!
5. Christmas Wish List
My mom still asks me for a list every year and I love it!
Here are a few things I'm asking "Santa" for this year.